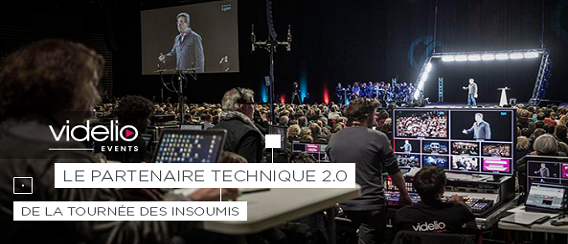 Published on 15/04/2017
On april 18th for his political meeting Jean-Luc Mélenchon will be on stage simultaneously in 7 cities thanks to the holographic technology proposed by VIDELIO-Events. The candidate of "France Insoumise" will be physically in Dijon but also in Montpellier, Grenoble, Nancy, Clermont-Ferrand, Nantes and Le Port in the island of La Réunion by using six holograms.
The Mélenchon teams will rely once again upon the expertise and strength of the VIDELIO-Events network to accomplish the technical feat of displaying a live hologram in six different locations at the same time. This revolution in political meetings is done in collaboration with Adrénaline Studio who is in charge of the scenography and Musion who supplies the transparent holographic projection foil.
VIDELIO-Events, using the combined strength of its video, sound and lighting experts as well as the 15 local agencies throughout France is ensuring the coverage of the entire tour of the "Insoumis" across France until election day : Tourcoing january 9th , le Mans january 11th, Florange january 19th, Paris february 5 th, Lyon february 5th, Strasbourg february 15th, Brest february 28th, Place de La République march 18th, Le Havre march 29 th, Châteauroux april 2th, Marseille april 9th, Lille april 12th, Toulouse april 16th…
On april 18th, the teams will exhibit their expertise and know how in 7 cities simultaneously. For this Event, the french company will setup a global technical infrastructure :
 Live video pickup
 Display and transmission
 Hologram production
 Video services
 Sound system
 Lighting